Real Estate App Development: All-inclusive Guide to Pave Light in your Path
Rating :
Real estate app development is the way to be at first in this buying and selling property era through mobile. Learn to develop your own real estate apps.
Real Estate App Development Guide: Making Property buying & selling easy
Introduction Part

What is the market coverage of the online real estate industry?

What are the Top Competitive Real Estate Mobile Apps

What are the significant benefits of Having a Real Estate Mobile App

What are the required Features to Build a Feature-Rich Real Estate Mobile App
Once upon a time, there was a dependency on the agents to sell or buy the property, house, or place because buying & selling a house is the most crucial factor in someone's life. In past buying & selling was dedicatedly focused on the availability of the real estate agent's time to visit properties to rent, purchase, or get prospective customers to visit their properties. Also, people spend months, perhaps years, combining through listings, comparing prices, calculating interest rates, most of all, analyzing the future value of making such a humongous investment.
But, But, But time has shifted towards modernization and shifted drastically ever since the entry of Millennial in the real estate picture.
That time when the millennial entered into the picture, it has brought several changes in the industry, just like their presence's impact on all the industries.
Just like everything people else in life, people look to the help of technology when talking about this gigantic decision. With a truly useful, well designed, and feature-rich real estate app, you can tap into an ever-growing, a highly profitable market that is genuinely looking for disruption.
Let's See the Glimpse of Online Real Estate Market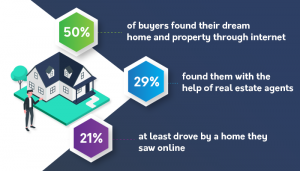 "
Author Signature :

With a strong belief that inclusion of mobile technology and digitalisation of processes for any individual or a business will help them to ease their life so that they can be more focused on their Core Business functions, with this intent and an experience of 6+ years our service ranges from consultancy to build next-generation mobile applications for Entrepreneurs/Startups to Enterprise Businesses.
---
---